UPCOMING PUBLICATION: October 2023 Third Edition Study Guide for the Certified Role-Playing Game Professional Game Master Level 1 Certification Volume 1
Third Edition, For Recreation & Leisure, Entertainment, Education, Healthcare & Therapeutic, Leadership, and Other Professionals, Supported by 45+ Years of Research & Evidence in Practice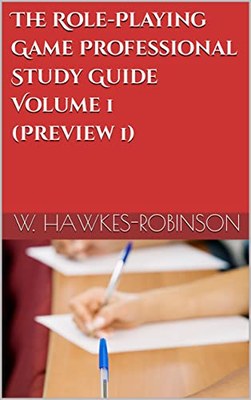 Hardcover ISBN: 9798373129435 $99.95 (Around late September 2023)

Softcover (paperback)  ISBN: 9798373120159  $49.95 (around January 2024)
Early Sneak Peak rough draft preview edition eBook (Kindle) Preview Edition: ASIN: B0BRYNC62Q   $9.95 - pre-order link: https://www.amazon.com/dp/B0BRYNC62Q
Details:
This book is a self-study guide appropriate for professionals from a wide array of industries desiring to implement role-playing games as a professional service offering from scratch, or integrate into an existing professional services business.
Supported By Over 45 Years of Research and Evidence-in-Practice for:
Recreation & Leisure professionals
Community programs
Entertainment professionals
Education professionals (Pre-K12-Graduate+)
Healthcare and Therapeutic professionals
Team, Management, and Executive Leadership professionals
and Many Other Professionals
These programs cover using applied in-person and remote tabletop (TRPG), live-action (LRPG and larp), electronic (ERPG, CRPG, xR (VR, AR), etc.), and hybrid (HRPG) role-playing games to achieve measurable results.
All experience levels of role-playing game professionals will benefit from the content included in this study guide for the Certified Role-Playing Game Professional certification. Whether you an absolute novice with no prior RPG experience, or a grizzled gaming grognard, you will likely gain insights about this modality that you never imagined!

Through the insights and growth stimulated by these programs, everyone who completes the training supported by this study guide develops dramatically for the better both professionally and personally.
THIS BOOK COMPLEMENTS THE RPG PROFESSIONAL WORKBOOK, RELATED BOOKS, AND THE ONLINE COURSES FOR WORKING TOWARD THE CERTIFIED ROLE-PLAYING GAME PROFESSIONAL CERTIFICATIONS.
Book Outline:
Disclaimers xiv
Foreword to the Associated Workbook
Preface: Why This Book?
Is This Book & Training A Fit For You?
Laypersons
Professional recreation service providers
Professional entertainers
Professional educators
Professional healthcare and therapy providers
Special Note for Recreational Therapists
Note to RPG Designers & Publishers
99% of the RPG Industry is "Doing It Wrong"
An Open Source and Open Science by Design Approach To Raising Up All Humanity
The World's Highest Standards in A Holistic Approach to RPG Professional Training and Services
The Role-Playing Game Professional Diploma, Certifications, & Authorized Service Providers
Lack of professional standards leads to harm!
There Is No Inherent Danger From RPGs for the General Population
The Role-Playing Game Professional Services Industries
The Highest Global Standards in RPG Training & Service Providers
Training-in-Depth
Flexibility & Freedom from Vendor, Product, or License Lock-in.
This Is Just One Approach of Many, There Are Others
Our Holistic In-Depth Training is a Two-Edged Sword
Example Analogies: IT InfoSec: CompTIA Security+ Versus GSE or CISSP
Introduction
How to Make The Most of The Associated Workbook
IMPORTANT NOTE FOR TRAINEES NOT ATTENDING TRAINING IN-PERSON: ADDITIONAL PURCHASES REQUIRED
Workbook/Training Structure Overview
Section 1: Tech Setup, CoC, RPG Formats:IF
Program Schedules
Introduction to the RPG Code of Conduct
Respect and Fun for All
Policies for Alcohol, Smoking, Drugs, etc.
Odious Behaviors
RPG (Conceptual) Models
The Hawkes-Robinson RPG Model: RPG Formats
RPG Formats "Amoeba" Euler Diagram
The Interactive Fiction (IF) Format (Not and RPG)
Be Careful About Using the Term "Choose Your Own Adventure"!
Examples of Non-CYOA IF Books
Giving Back to the Community
Applied Gaming
Assigned Activities
Section 2 Course Topics: RPG History & RPG:HRPG:SAB
Rules, Debate, or Arguing During Game Sessions
Brief Note About Extreme Rules Lawyers
More on Code of Conduct Policies
Avoid Zero-Tolerance Policies
"Difficult" Topics In-Game
Cleanliness, Sanitation, Odors, and Hygiene
The RPG Professional Workbook
RPG.Education
Certified Role-Playing Game Professionals (CRPGP)
The World's Largest Free and Open Research Repository on RPG Research
Rules Versus Story?
Token Economies and Gamification
RPG Formats: Solo Adventure Books & Modules (SABM)
SAB vs. SAM Legal Issues: Tolkien Estate Versus Iron Crown Enterprises
Example In-Print SABs
Example In-Print SAMs
Pros and Cons of SABMs
Section 3: Neuroscience of RPGS & RPG:TRPG:SABM:SAM BECMI D&D
Section 3 Course Topics: TRPG, Learning, Access, BCI, & SAM
Section 3 Topics
Section 4: Recreational. RPG History:Anti-gamer Movement. RPG:TRPG:BFRPG
Section 4 Course Topics: History of Games, GM Tools, BECMI & BFRPG
Section 4 Topics
Section 5: Flow. Voice. APIE:Plan. RPG Optimization: Voicing. TRPG:BFRPG
Session 5 Course Topics: Optimization:Voicing, Technologies, BFRPG
Section 5 Topics
Section 6: Bleed. Escapism. APIE:Implement. TRPG:BFRPG.
Section 6 Course Topics: Escapism. APIE: Implement. Flow & Bleed Management.
Section 6 Topics
Hawkes-Robinson Bleed Diagram Inspired by Sarah Bowman, Ph.D.
Section 7: Accessibility. APIE: Evaluation. Observation. Peer Review. OIS. TRRPG:BFRPG.
Section 7 Course Topics: Observed Immersion Scale (OIS)
Section 7 Topics
Section 8: Assess. Access. Escapism. APIE:Docs & Re-. TRPG:BFRPG
Section 8 Course Topics: Aphantasia, Adjectives, Other Senses, & Visual Aides
Section 9: Accessibility. Very Young Players. TRPG & LRPG:NTYE, InspireIsles (Basic Signing), & ________
Section 9 Course Topics: Toddlers, non-verbal & pre-verbal players
Section 10: Entertainment. RPGs & Tech. Accessibility: ERPG:ARPG
Course Topics: RPGs for Audiences. Tech & RPGs. Audio RPGs. Streaming.
Section 11: Educational. RPG & Tech: VTT. ERPG:SCRPG
Section 11 Topics: Explanatory Styles. Solo ERPGs. NWN
Section 12: Group Dynamics. Communication. ERPG:MRPG
Section 12 Topics: Forming, Storming, Norming, Performing, etc. NWN
Section 13: Groups. Game Design Ethics. ERPG Tools. ERPG:MRPG
Section 13 Course Topics: Identity Paradoxes, Screen Time. Live Balance. XR, BCI, AI.
Section 14: Resilience. TPK. ERPG Creation Tools.
Section 14 Topics: Existential Crisis. Processing. The Crucible!
Section 15: Game Violence. Behavior Guidance Rules. TRPG:Doctor Who
Section 15 Course Topics: Game Violence Fraud. Token Economies. Non-violent Options
Section 15 Topics
Section 16: Interaction Patterns. Risk Factors. TRPG:TS
Section 16 Topics: Avedon. Incarcerated. Top Secret RPG
Section 17: Therapeutic. Social Isolation. Accessibility: VI. TRPG:TS
Section 17 Topics: RPG Therapy. Accessibility for Blind Participants
Section 17 Topics
Section 18: Old School vs New School. Grit. TRPG:D&D
Section 18 Course Topics: Learned Helplessness. Efficacy. Grasping Function Disabilities Adaptations
Section Topics
Section 19: Intrinsic Motivations. Communication Styles. GM Illusions. TRPG:D&D
Section 19 Course Topics: Autotelic Experiences. Effective Communication Techniques. Wizard of Oz Effect.
Section 19 Topics
Section 20: Professional & Legal Issues. TRPG: D&D
Section 20 Course Topics: Licensing. Permits. Insurance. Taxes. Billing Rates
Section 21: Health & Fitness Focused Games. TRPG: D&D
Section 21 Course Topics: TR-Enhanced RPG Benefits. Background Checks: Predators!
Section 23: Camaraderie. Dorkness Rising Analysis. Transition Program Planning. TOR
Overview
Section 23 Course Topics: House Building, Fellowship, Discharge Planning.
Section 23 Baseline Quiz and Discussion
Section 24: Random Dungeon Generation. DMG. Stargate. TRPG:Labyrinth, & Golden Sky Stories
Section 24 Course Topics: Dorkness Analysis Part 2. Tying It all Together. Friend-focused Play
Section 24 Topics
Section 25: Intro to LRPG:Larps. Accessibility & Safety Issues.
Section 25 Course Topics: Types of Larps. Larp Pros and Cons. Remote Larping
Section 25 Baseline Quiz and Discussion
Section 26 Course Topics: Wrap Up. Preparing for the Final Exam.
Section 26 Course Topics: More on Hybrid RPGs. Final RPG Session
Section 20 Topics
What Next? The Next Steps
Looking Ahead: Sneak Peaks at Higher Training Levels
Level 2
Level 3
Level 4
Level 5
Level 6
Level 7
Level 8
Level 9
Level 10
Level 11
Level 12
Level 13
Level 14 Sneak Peak
Level 15
Level 16
Level 17
Level 18
Level 19
Level 20
Appendices
Acknowledgments
Alphabetical Index
List of Abbreviations
Pronunciation Guide
Terminology Used in this Workbook
Role-Playing Game Models and Formats
CRPGP Training Options, Roles, Levels, and Pathways
DIAGRAM: RPG Professional Training Roadmap
Recreation and Entertainment Training Pathways
Educational and Therapeutic Training Pathways
Level 1 Potential Roles
Learn to Play Before You Attempt to Run Games as a GM
Experienced Game Masters Need to Keep In Touch With the Player Experience
Typical Training Session Duration
Typical Steps in GM Training Process
Online Quizzes Available Through RPG.Education
Why Professional Standards Matter
A Multidisciplinary, Recreational Therapy, Compassion Focused Therapy, Cognitive Neuropsychology and Neuroscience Multidisciplinary Approach
About RPG.LLC & RPG Research
RPG Research
About The Author
Bibliography
Citations
Conclusion
Further Reading
References
Additional Books from the Author and Publisher