UPCOMING PUBLICATION: OCTOBER 2023: Collected Works of RPG Research Volume 1
Role-Playing Game Research Papers, Essays, Panels, & More From Multiple Authors Through RPG Research, a 501(c)3 Non-profit Research & Human Services Charity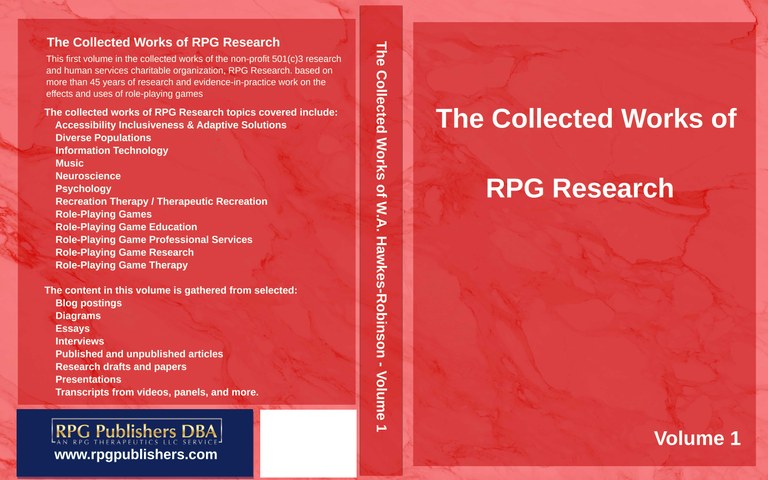 Full Color Hardcover ISBN: 9798373128643  $149.95
Black and White Softcover (paperback)  ISBN: 99798373128544  $99.95
eBook (Kindle) Preview Edition:  ASIN: B0BRXWBS6R  $19.95 (will be $49.95 when finished)- pre-order link: https://www.amazon.com/dp/B0BRXWBS6R
Details: 
RPG Research is a 501(c)3 non-profit research and human services charitable organization. it's roots begin in the 1970s with early research on optimizing the role-playing game experience, expanding in the 1980s with research into the effects of role-playing games upon participants and uses in educational settings. In the late 1980s and early 1990s research expanded to include at-risk, high-risk, incarcerated, and special populations. In 2004 RPG Research's founder launched the RPG Research Project website, aggregating all of the world's research on all role-playing game formats: tabletop, live-action, electronic, and hybrids.
In 20017 the RPG Research Project was incorporated as the 501(c)3 non-profit charity RPG Research.
Each volume in this series includes a robust collection from a broad array of disciplines and contributors. Content includes:
conference and draft papers
essays
panel discussions
interviews
diagrams
proposal drafts
observational reports
laboratory and field research studies
presentations
transcripts
blog postings
and more.

Contributors include:
W.A. Hawkes-Robinson
John Welker
Danielle Whitworth
Daniel Ivey
David Griffith
and many others...